2009 Featured in Salon Magazine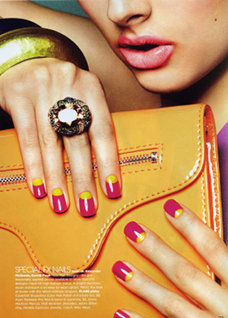 2010 Featured in Flare Magazine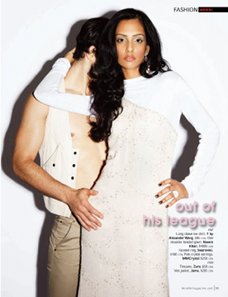 2010 Featured in Anokhi Magazine
In the Media
Laura from Scratch My Back Nail Studio has been featured in Canadian consumer and trade magazines (Salon, Flare & Anokhi) and blogs and websites (Elle Canada, Elle Quebec, Weddingbells). She is a regular contributor to Nails and Nailpro which are US trade magazines.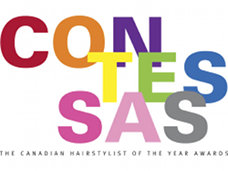 Laura Merzetti
was chosen as a Finalist in Salon Magazine's 2010 Contessa Awards in the Nail Art Technician category.
About Scratch My Back Nail Studio
Scratch My Back Nail Studio is a home-based nail salon located in a quiet residential area adjacent to Pickering Village in Ajax, Ontario. The studio provides a peaceful, relaxing atmosphere in which to enjoy your nail services and is fully equipped with TV and wifi.
Annual inspections are conducted by the Durham Region Board of Health and their Personal Services Settings Protocol is diligently followed. Guests can be assured that their safety is always a top priority. All implements and tools used in a service are either metal and disinfected between clients, or single-use items that are disposed of after each use. Only professional products are used and you will never find nail products containing MMA (Methyl Methacrylate) in the studio. You may view the last 3 Health Inspection reports here. (Note: Upon reopening after Covid-19 the health and safety protocols will be fully updated).
CND products including Vinylux Weekly Polish, Shellac Gel Polish, Brisa gel, PLEXIGEL and L&P (acrylic) are used in the studio. Fuzion and Young Nails are other quality brands chosen to complement the nail enhancement product portfolio. Laura has chosen these products to best represent her business and is proud to be associated with these forward-thinking companies who produce superior products for the quality-conscious consumer.
In addition, all pedicures are provided in a Footsie Bath with disposable liners that are discarded after each client. Guests will enjoy and appreciate the footlogix products that are used in their pedicures, providing optimum results.
All services are by appointment only, and payment may be made by Visa, Mastercard, Debit or cash (no cheques please). Please make alternate arrangements for child minding during your appointment. Free street parking is available.
We reserve the right to refuse service.
Important Notice to Clients
Your appointment time is reserved for you. If you are unable to keep your appointment please contact the studio to cancel or rebook, with a minimum of 24 hours notice. If it is after-hours you may leave a voicemail on the studio phone, or contact the studio by email. Occasionally proper notice cannot be given when: weather conditions may prohibit safe travel, a family emergency occurs, or sudden illness takes priority. These situations are always taken into account :) Clients who arrive at their appointment more than 15 minutes late may need to reschedule or receive a shortened service if there is another client booked immediately after them. At no time will a late client disrupt the following client's appointment.
New clients have the option of booking their appointment through the secure Genbook site or contacting the studio directly. In all cases new clients will be asked to provide a valid credit card to secure their appointment. This is to hold your booking; you are not pre-paying for your appointment. Genbook appointments automatically generate a confirmation email when the appointment has been booked and a reminder email 24 hours in advance. This reminder email will contain links that you can easily and quickly access which will allow you to cancel online with sufficient notice. Sometimes these emails may not make it through your spam filter - it is your responsibility to make note of your appointment date and time when it is booked. If you have any questions about this policy please contact the studio.
It is my policy not to take phone calls during client appointments. Please leave a message and I will return your call at the first opportunity.
If this is your first visit to my home-based business, please understand I may not be able to accommodate early arrivals. I will always be on time for your appointment (see above) so please plan to arrive right at your appointment time. Thank you for your consideration :)